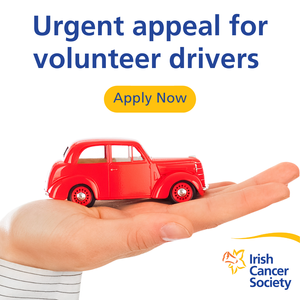 Yesterday the Irish Cancer Society put out an urgent call for volunteers for their volunteer driver scheme.
"We're looking for volunteer drivers to help transport cancer patients to and from their hospital chemotherapy treatments. Volunteers are needed in locations across Ireland to help keep this vital service running. This role is weekdays only and you must be able to commit a full day when driving. All drivers must have a roadworthy vehicle, an active email address and a valid driver's license."
If you or someone you know is interested in volunteering, please apply through Volunteer Ireland: 
https://www.i-vol.ie/organisation-details/?orgID=00120000003sBn1AAE 
You can find out more details about the scheme on the Irish Cancer Society website:
https://www.cancer.ie/cancer-information-and-support/cancer-support/getting-organised/organising-travel/volunteer-driver-service
I have been availing of this service for the last few months and would be totally lost without it. I don't drive and the transport between Carlow (where I live) and Kilkenny hospital is even more limited than it was before the pandemic.  The support these drivers provide is greatly appreciated.
Klara x